Mission: Actor's Express is a theatre that challenges and reflects contemporary human experience in an inclusive environment. Actor's Express seeks to jumpstart individual transformations through the shared adventure of their live performances, which range from daringly provocative to audaciously hilarious.
For more information about Actor's Express, click here!

Mission: The Atlanta Shakespeare Company is a true theatrical ensemble dedicated to the communion of actor and audience through poetry. By crafting lucid productions in which audiences join with skilled actors to create the most immediate and exhilarating theatre possible, our aim is to make classic drama engaging for all audiences of all ages and backgrounds.
Founded in 1984, Atlanta Shakespeare Company (ASC) continues to be the only year-round, full-time professional acting company in the state of Georgia. Employees have unmatched longevity because of the adaptive ensemble management style of the organization.
ASC is an internationally recognized leader in Original Practice movement of Shakespeare production and is the only theatre company in the Southeastern United States so committed to performing Shakespeare as it was experienced in its own time. ASC was the first American Shakespeare Company to perform on the stage of the reconstructed Globe theatre in London, England (July of 1995).
ASC offers a broad array of educational programs for students of all ages, including Core-curriculum matinee series, a traveling curriculum, three summer camps, and an Apprentice Company. These programs impact more than 23,000 students each year in 91 communities across 44 Georgia counties and five neighboring states.
ASC is one of the most prolific theatre companies in Georgia, routinely producing 12-16 period classics each year, often with two or more productions in repertory. Most productions are plays by Shakespeare, but the company also includes several non-Shakespeare classics each season. ASC was the first and is currently the only Shakespeare Company in America to have produced all 39 plays currently ascribed to William Shakespeare.
For more information about The Atlanta Shakespeare Company, click here!

Mission: To connect people, inspire hope, and promote positive change through the stories of our times. Horizon strives to be a dynamic leader in the production and development of professional contemporary theatre in the Southeast and a welcoming home for our artists and audiences.
Annually serves more than 40,000 audience members – diverse in age, race, and socio-economic level from across metro Atlanta and beyond – with high quality, intimate, smart, and entertaining new plays that are relevant to their lives.
Horizon's New South Play Festival, founded in 1999, commissions, develops, and produces new plays from, for, and about the contemporary South. The Festival has developed more than 50 new works for the stage and earned Horizon a national reputation as an important regional incubator for new plays, especially by Southern and African-American writers.
Horizon's education programs develop the skills and characters of young people through performing arts classes, workshops, camps, and plays that speak to their lives. Programs include: Horizon Family Series (plays for families that combine adult professionals with child amateurs on stage); New South Young Playwrights Contest and Festival (for high school and college age writers); classes and camps (for elementary, middle, and high school, in partnership with Atlanta's Children Theatre); and Apprentice and intern Companies (for college and post-college early career professionals).
For more information about Horizon Theatre, click here!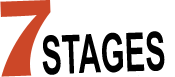 Mission: 7 Stages is a professional, non-profit theatre company devoted to engaging artists and audiences by focusing on the social, political, and spiritual values of contemporary culture. 7 Stages gives primary emphasis to international work and the support and development of new plays, new playwrights, and new methods of collaboration.
In1979, Del Hamilton and Faye Allen founded 7 Stages with a simple vision: to create a haven for artists and audiences to address social, political, and spiritual issues present in their daily lives. In their 35 year history, they have presented more than 80 world premieres and 140 regional premieres.
7 Stages educational programming seeks to reach students and adults in all phases of artistic growth to introduce, develop, and hone the practice and appreciation of theatre and performing arts. Opportunities are available year round. 7 Stages' high school theatre training program, Youth Creates, has a 5-week summer intensive program, as well as continuous outreach throughout the year. They have never turned away a student based on their inability to pay for educational programs. Talkbacks occur after every Thursday performance to initiate a deeper understanding of the work and an open dialogue with audience members and artists. Residencies are also available at schools year-round for students of all ages. For continued learning opportunities for older high school and college students, internships provide one-on-one learning directly from theatre professionals.
For more information about 7 Stages, click here!

Theatrical Outfit presents high quality theatre that is rooted in the literature, music, and history of the American South and branches out to include authors and composers of all places and times who evoke the richest and liveliest discourse, particularly on the themes of race and faith.
Founded in 1976, TO was an ensemble of young theatre artists, housed in a one-room 99-seat performance studio in Atlanta's Virginia Highlands. Tom Key became Executive Artistic Director in 1995 and led the organization to the opening in 2005 of its first permanent home, The Balzer Theatre at Herren's (BTAH's).
As documented in the 2006 Telley Award winning film, "Sweet Southern Spirit" and Ed Negri and Michael J. Cain's book,

"Herren's: An Atlanta Landmark – Past, Present, and Future

, the BTAH's was the site of the first restaurant to voluntarily integrate in 1963 and its first African-America patrons, Dr. Lee and Delores Shelton, are now subscribers and patrons of Theatrical Outfit.